Horse Care
There is a saying that "you never know everything there is to know about horses"… and over the years at Backcountry Saddles has proven this to be correct.
It all started when we began to collect young horses that required training, and it always amazed us how many different ideas there were out there. Pat Parelli, Monty Roberts, Ray Hunt, Ken Drongal, Carlos Tabernaberri and now me!!!
Over the last 25 years I've taken bits and pieces from all the above trainers and used those ideas that worked (and developed some that didn't) to train, start, and improve both the young horses and the working stock at Backcountry Saddles. Most importantly, I use the older working stock to teach and train the young stock and frequent use by our visiting riders helps to maintain the horses' behaviour.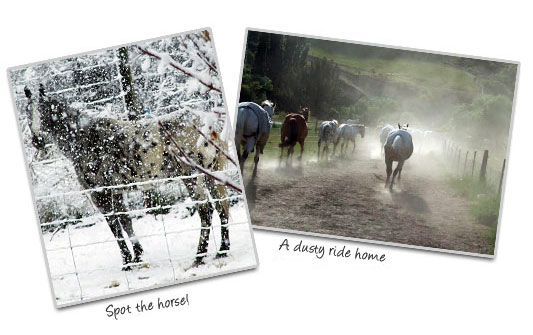 This development of ideas has continued down to caring for the horses' feet, and after doing a few courses and reading about barefoot horses I decided to take the plunge and give it a go myself. This move hasn't been without its hiccups but on the whole has been really successful. My style of hoof trimming has been influenced by different people such as Dr Strasser, Will and Rosa Miller, and The Mustang Roll. From this I've developed my own style to cope with the terrain and conditions of the Cardrona Valley. By doing the hoof trimming myself I catch potential problems far earlier and can trim them when required rather than waiting for someone to come and do it for me.
Trekking is definitely not an easy existence for a horse and having constantly changing riders and conditions on the ride can take a toll on their bodies…thus the move into equine acupressure. I took part in a Tallgrass Acupressure course so that I can help my horses to maintain and heal their bodies from stress, trauma and blockages that can develop in their meridian systems.  I've been impressed with the results and the horses obviously enjoy the relief.
No doubt there will be further development into other areas… so watch this space!!!